DEDICATED

To CREATIVITY

The ART ~~ The ARTIST

To SONG ~ and DANCE ~To MUSIC

~ To The WRITTEN WORD ~

~ The SPOKEN WORD ~

~ The PAINTED CANVAS ~

~ The SCULPTOR'S HAND ~

~ The ART OF LIVING ~

~ The ART OF LOVING ~

~ To THOSE WHO TEACH ~

~ And THOSE WHO ENTERTAIN ~

~ To ALL WHO HEAL ~

~ The SPIRIT ~ The BODY ~

~ The MIND ~ The HEART~

Dedicated

To the UNDERSTANDING

THAT

ART IS THE CELEBRATION of the CREATIVE SPIRIT

THAT SPEAKS FOR ANY CIVILIZATION
IN A UNIVERSAL LANGUAGE

Of Image ~ Of Song ~

Of Words ~ Of Dance ~

ART is

ALL THAT REMAINS AT THE END OF A PERFECT DAY

****************************************

LBT© 2003


~~~~~~~~~~~~~~~~~~~~~~~~~~~~~~~~~~~~~~~~~~~~~~~~~



A POET
A poet is nothing more than God's court jester,
Dancing all alone from dawn to dusk,
Whose sleight of hand may raise the sun,
Weave a star or turn a field of violets
Into one red rose.
*
Go out, Poet, Color up a dreary world,
Sleep in meadows where you must,
To dream your dreams, compose your schemes,
And sing your songs in market squares
Where others sell their sweat and wares.
You, alone, give name to seasons,
Sing that tears and joys have reasons.
Cast your image on the mind,
Sing and dance in fancy rhyme.
*
Then in the twilight of your meditation,
You may see the raw, the splendid
Pain-filled truths of all the laughter.
You, dear poet, as jester of the finest land,
Must conjure meaning built by man.
*
You've tasted love in salty tears,
Heard symphonies in the infant's cry.
You sketch and clone your earthly words,
Carve your truths on eternal stone.
You sing your song and dance your dance,
But from dawn to dusk you dance alone.
*
Dear Poet, as you approach your final days,
To shed your worn and golden cloak,
Replace your scepter at heaven's throne,
And rest your head with no regrets
To sleep your final sleep alone,
Drifting toward your peacefilled trance.
Linda Toborowsky © 1982 /Rev 2004
~~~~~~~~~~~~~~~~~~~~~~~~~~~~~~~~~~~~~
SKETCH
The street lamp light glows in on me
Sculpting the thin, long shadow of my pen
Engraving thoughts onto this paper.
Parallelograms of yellow beams
Stretch like fingers touching deep, dark pockets
Of this room and long-forgotten childhood dreams.
How small we seem against the navy sky,
Which fills these sterile window panes,
The backdrop for an essence of this night.
I breathe in stillness of the hour and sigh,
"Night!" When all the lunar instincts
Break the shackles of their daily bondage,
Whispering, Whispering to be Free...
Whispering to be Free...
To... Breathe...Free.
With my image etched in glass,
A faceless silhouette against the night,
I sketch this hour for memory
And in the yellow dawn I'll rise to read
My nocturnal poetry.
Linda Toborowsky © 1977 /Rev. 2004
~~~~~~~~~~~~~~~~~~~~~~~~~~~~~~~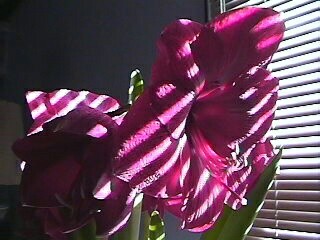 JUST ANOTHER AVERAGE DAY

Just another average day
Suburbs, children on their way to school.
Workers heading to their jobs,
Into sunrise, driving east,
Some with cases, some with tools, moving stones,
Shoving dirt, digging holes, shoveling papers,
Climbing poles, banging typewriter keys while answering phones.
Just another average day.

Sunlight hounds my shades as I sort priorities.
Raising blinds, a sudden splash of sunlight on my face
enlightens me to
the reality that I begin another day.
Nothing pressing, nothing new to making the same beds,
Go downstairs, Start the coffee,
Press familiar buttons for music and the news.
More blinds to raise, load the washer, clean the sink.
Coffee bubbles and steams, my small brown lake of
of sweet aroma touching deep like an old friendship.

Newspaper headlines bring on daydreams.
Something, something
There must be something, somewhere. I can feel it all around me.
It must be time to wash the baseboards around the floors.
Get the water, down on knees,
My phone rings,
"IDC!" I'm the message taker.
That's my line, but I have to think.
Seduction, everyone is talking.
Take the message, then back on knees.
Virginia Woolf never scrubbed the floor.
Whitman never talked on phones.
The Brontes never worked in jeans.
Just another average day
To stay at home and clean.
Something, something, I feel it deep within,
Makes me think and drift into a daydream.
The phone rings, "IDC!" What's my line?
Oh, yes, I'm the message taker.
Take the message,
Then back on knees.
Galileo would love my XG-M with zoom lens and the filter.
Franklin would have improved upon the radio
and spent his days and nights on his computer.
And these baseboards were once apart of mighty trees,
Now strips along my floor.

Space audacity 1982!!
Satellites bedeck our earth like jewels around
A strepaccocaled throat.

And I wash these baseboards to the rise and fall
of Scherezade.
This very moment the Andrea Doria lies
tweaked within Atlantic mud,
And sea gulls glide oblivious to the nearest shore
Where, on the land, the mountain peaks, vanilla-glazed
Surround a gracious field which feeds
the kind-eyed, chocolate cows
Who sleepily graze on the supple grasses.
Tugboats leading ships to ports.
Planes are leaving for Japan.
And someone's making love.
Scherezade carries me to other worlds
Across the seas to Viking's land
To ports and deserts, to Jerusalem.
And to my knees to wash these baseboards.
Something stirs the memory.
Hot summer evenings, crickets serenading,
Hot skin drying in the cooling air
Easy Readers and Big Bird's night stories,
many questions to be answered,
Silly putty, parks and zoos and, lest we forget,
the shops with pets.
Two little girls in one bathtub of warm water,
Little fingers gliding cloths across the foam,
And echoes of laughter.
I slipped across the bathroom floor
From bathtub floods and killed myself
With a sudden view of the ceiling
And two sets of dark brown eyes
Watching me from the tub's horizon.
And from the depths I heard their laughter.
Powder scents and tucking sheets around
sleepy packages to be sent to dreamland.
One boy baby crying in the night for milk
and my company,
Then the beautiful silky sound of infant hunger
satisfied in life's contentments.

The phone rings, "IDC!" I'm the message taker.
Maybe I'll tell someone about the First Amendment.
To see if they care?
And Congress will certainly adjourn for lunch,
For contented stomachs lead to better judgments.
The washing machine stops,
But not the Washington machine.
With it's gears and cogs and sprockets
And dirty laundry to be cleaned.
Just another average day in Congress.
In the Oval Office
An average day at Universal
Average day on Wall Street
A day in the Caribbean
In Charleston, West Virginia
Night in Vietnam
In Israel.
I fold clothes to the rise and fall of Scherezade
To the saltwater on the rocks
and long forgotten Pirate ships
And giant trees which gave their lives
to be my baseboards.
An average day in all dimension.
Linda Toborowsky © 1982
~~~~~~~~~~~~~~~~~~~~~~~~~~~~~~~